The electronic company pTron has introduced a number of audio devices over the past few months, including products ranging from headphones to neckbands and earbuds. Ptron's Bassbuds is priced at Rs 1,299. It is being sold from Amazon. We have used Bassbuds Pro for a few days, so let us know in the review if this earbud is really worth buying it?
Table of Contents
PTron Bassbuds Specifications
The weight of these pTron headphones with the case is only 27 grams while the single bud weighs only 4 grams. In this case, it is not heavy. Both buds have a 40-40mAh battery, while the Buds case has a 300mAh battery. These headphones have Bluetooth 5.0. Apart from that, there is also touch control in the buds. With this, a one-year term is also obtained.
Design of the pTron Bassbuds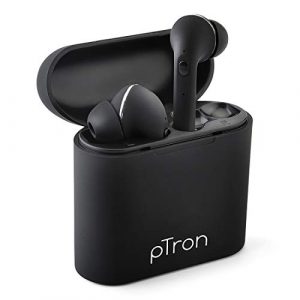 Speaking of design, its design is quite upscale and stylish. The charging case is also good. The bud material is good. The charging case has a battery indicator display that gives information about the headphones and the case's battery level. The buds are also very light. The same can be said about the design that you get premium design earbuds for just Rs 1299.
The charging box has a Type C charging port. Speaking of touch control, the play/pause of music and call can be disconnected with the push of any button. At the same time, you can tap the right buttons twice and listen to the next song, for the first song, you need to double-tap the left buttons. Headphones are also supported by Google Assistant, which in order to activate you need to touch and hold any button for 2 seconds. Its fit is good and the buds do not fall out of the ears even while running.
PTron Bassbuds Performances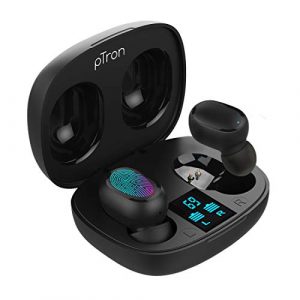 Talking about performance, as usual pTron gave a great sound, and Bud's audio is very clear. There are no issues with calls and connectivity. It was also nice to talk on the phone during the review. The microphone works well. Touch control works well. We used ptron's Buds on iPhone and Android during the review. We have not encountered any problems. However, we failed to activate Google Assistant due to touch control, and there was an issue with the audio connection breaking once or twice, but the headphones were reconnected automatically. The audio has no noise. Overall, the audio quality of the pTron Bassbuds is superb
pTron Bassbuds battery
Now, when it comes to the battery, the battery life is good. The battery does not suddenly discharge. The battery does not drain quickly even when watching videos or playing games. You can listen to music continuously for 3-4 hours on these headphones. After the battery is low, the case of the Ptron Basebuds Pro can charge the buds up to 3 times full. So battery life is also good. In a line, pTron has introduced a good earbud in the market at a low price.
Verdict
pTron bassbuds are capable headphones not only for music but for anything you would need wireless headphones for. The sound was clean and crisp when viewing videos on YouTube, as well as TV shows and movies on Netflix, and the pTron bassbud also worked well for voice and video calls.
Is pTron Bassbuds good?
Ptron bassbud is a decent entry-level Bluetooth headset. For Rs 899 it offers decent quality sound output, along with this it supports google assistance which is rare at this price point. The design allows you to mix and match ear hooks and ear tips.
Which is best pTron or BoAt?
In our boat review, it will be a good purchase if you prefer only songs and music because we consider every aspect of the review, such as speech, vocals, music, etc. The boAt provides good output in voice, movies, gaming sounds. But ptron has good quality of voice and speech at a low price.