Recently electronic company ptron launched ptron bassbuds vista in India. So here we are going to review ptron bassbuds vista. We will be reviewing this earphone on three-factor i.e design, battery, sound quality. Let's find out is it really worth buying earphones for under 1500.
Bassbuds Vista earbuds are priced at Rs 1,299. pTron BassBuds Vista earbuds come in four color options Black, Gray, Blue and White color you can purchase them from e-commerce websites like Amazon or Flipkart.
Table of Contents
Ptron Bassbuds Vista Specification
Bassbuds vista has Bluetooth 5.1 which makes connectivity quick. This earphone comes with an IPX4 rating. This means that it is sweat-proof and splash resistant so you can use it while working out. It has nano-coating which protects the earbuds from getting damaged by water.
Apart from this, it has 10mm drivers which provide for great sound. Talking about its battery, the earbuds have a 40mAh battery, while the charging case has a 400mAh battery.
The weight of the earbuds is 4 grams each so it is so lightweight that you can wear them for a longer period of time. It comes with an inbuilt mic for HD calling.
Here the most important part it comes with 5W Qi Wireless Charger. Apart from this, earphones have the facility of Google-Siri voice assistant to touch control.
Ptron Bassbuds Vista Review
Design and built quality
The built quality of the earbud is really nice. I really like the design of the earbud. it is a very sleek and stylish design and the case comes with a leather-look top which gives it a premium look.
You will fall in love while looking at it because of its killer design. it is lightweight so you can wear it the whole day.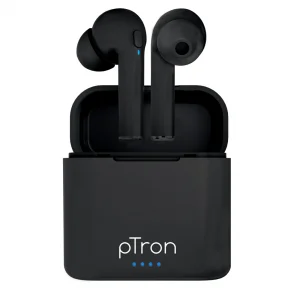 To power it on you need to just take it out of the case its power automatically gets on and automatically starts pairing with the Bluetooth device.
You can activate voice assistance by clicking thrice on the left earbud. You can look into its manual which is provided earphones to perform different operations.
Battery
Talking about its battery it comes with a 40mah battery on each earbud while the charging case has a 400 mAh battery capacity. It takes 1-2 hours to charge the case.
On a single charge, it gives 3-4 hours of playback time. The battery backup is decent but not excellent as compared with other earbuds at this price range.
To charge the earbud just put it into the charging case it will start charging and the red light glows as an indication. To charge the case you can connect it with the USB provided with it.
Sound quality
It has good sound quality at lower volume but the audio gets a little bit distorted at
full volume. Talking about the bass it has decent bass at 70% of volume. The voice during a call is crisp and clear very satisfactory sound.
The only downside is its bass and sound quality at high volume.
Pros
good design
good built quality
come with 5W Qi Wireless Charger
lightweight
decent sound quality
Cons
bass is not good at higher volume
decent battery backup
Comparing pTron bassbuds vista vs boTt rockerz 255 pro plus
We comparing the pTron bassbuds vista with boat rockerz 255 pro plus to get a better understanding of which is worth buying earphones for under 1500 rupees.
Talking about battery backup the boat rockerz 255 pro plus gives you 35 to 37 hours of playback time on a single charge while ptron bassbuds vista gives you up to 4 hours of playback time so if you need earphones that last long then you can go for boat rockerz 255 pro plus.
The sound quality and bass of boat rockerz 255 pro plus is much better than patron bassbud vista at a higher volume. But if looking for good design earphones then you can prefer ptron bassbuds vista.
Final verdict
While reviewing ptron bassbud vista we found that it has decent sound quality and battery backup. It has a good design and built quality, you must give a try it once.
If you are searching best sound quality and battery backup earphones under 1500 then you must take a look at one of our reviews of boat rockerz 255 pro plus.