Most headphones cost between Rs 1500 and Rs 4000, to buy these headphones customer thinks twice before spending money. In such a situation, Truke Fit Pro may offer earbuds at a fairly cheap price. These Truke fit pro earbuds compete with popular brands like Xiaomi and Realme and cheaper brands like Noise, Boult Audio and Boat. Let us give you a quick review of Truke Fit Pro.
Table of Contents
Truke Fit Pro Review
The company deserves praise for making a good product at this price. The design of the Truke fit pro earphones goes very well with the charging case which looks pretty good.
We were impressed to find that the USB Type-C charging port is available in its case, which is usually found in headphones priced over 2000 or because it's a feature that is lacking even in very heavy products. Dear.
The Truke Fit Pro earphones feature a beautiful dolphin-shaped design. You can now buy them in three colors black, green and blue on Amazon.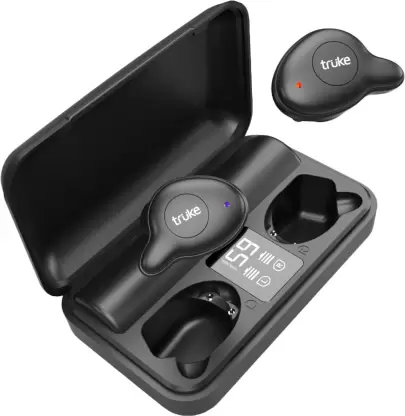 These headphones have touch sensitivity. In this, you can access Google, Siri by double-pressing the button on the left earphone while there is a multi-function button that can be pressed once to manage calls and music.
Battery
Truke Fit Pro comes with better specs at a low cost. It will have USB Type-C charging, Bluetooth 5.0 connectivity, and up to 24 hours of battery life between the earbuds and the charging case. There's also fast charging with headphones giving an hour of playtime after 15 minutes of charging. The charging case has a capacity of 500mAh.
Sound
Now if I am talking about performance let me tell you it is really very powerful and fantastic, I enjoyed all kinds of music on it, although it has a special kind of base, it makes all the songs more according to them. It means you can enjoy your music experience.
Connectivity
Apart from that, when I connected them to my phone via bluetooth, I found that even though there is bluetooth 5.0 connectivity, their bluetooth connectivity is not far, their connectivity is only after climbs and descents of about 10 to 12 meters. Other than that, this device is an ideal device at this price point. And you have to try it once.
pros
Sound quality is very good and has very fine beats
Build quality is very good.
Looks like a premium product
low cost
value for money
cons
Should you buy Truke Fit Pro?
During its review I found the design to be good. I also really liked its design. Seeing this, we know that this device has an appeal in itself, and for the price of just Rs 799, it can be called an excellent device. In the end, I would like to tell you that this device can be a great device for you at a low cost.